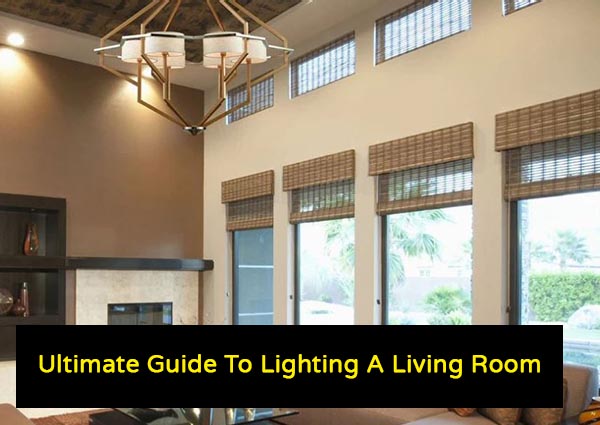 Ultimate Guide To Lighting A Living Room
Just as the name suggests a living room is where most of the living happens. You can say the living room is the most dynamic spaces in anyones home.
It hosts a really wide range of activities, unique to each and every individual. Depending on the day, it'd be where we entertain our friends and family, kick up our feet to relax, draw in with a decent book, binge on our favourite shows or even eat the occasional meal. This multi-use space requires carefully planned lighting for daily living. Let's explore the several lighting layers that make your living room come to life.
Take a moment to think about the following:
1. What Is The Actual Job Of Your Living Room
If it's watching TV. TV's give off light of their own, so it's quite vital that your lighting doesn't conflict with this, causing glare that interferes together with your favorite show as well as hurts your eyes. Glare can come from a range of lighting sources like table lamps without shades, downlights pointing at the screen, and even windows. You need to make sure to position your lighting as well as your TV in such a way that no light shines directly toward the screen.
What can help? Bias lighting is actually quite a clever way to both avoid glare on the TV screen as well as reduce the eye strain caused by long exposure to TV screens in dark rooms. Moreover, bias lighting involves placing lighting behind a TV so as to increase the visibility around the screen, without
really shining more light directly into the viewer's eyes. Furthermore, it provides more ambient light within the room and thus saves your eyes from constantly adjusting between a bright screen and the dark room that surrounds it. Far from distracting from what's on the screen, bias lighting makes the pictures on the screen appear far more richer.
If you wish to read in your living room, ambient table and floor lamps don't provide the focused light you truly need. Desk Lamps or Floor Reading lamps are actually one of your best bet. As their light is bright and focused it therefore, reduces squinting as well as eye strain, and it rather highlighting the words on the page than the space around you. If you're searching for a more versatile option, consider an adjustable floor lamps. A simple swing of the arm or pivot of the head can accommodate your reading session, whether you're sitting up or lying down, as well as easily shifts for the children coloring at the kitchen table. If your tasks are relatively stationary, a trendy directional lamp may be more your speed. In smaller spaces, you'll even consider a Spot adjustable reading lamp.
2. Accent Lighting
After selecting lighting for the living room's main activities, consecutive step is accent lighting. Accent lighting are such that they highlight artwork and architectural features within the space.
If you're actually building a living room from the ground up or planning a very major remodel, adjustable recessed lighting offers an enormous variety of integrated accent solutions. You need to ensure to install your recessed ceiling lighting at about a 30° angle, about 2 feet away from the wall on an 8 foot ceiling.
Track Lighting can actually be a classy, flexible and practical alternative to recessed lighting, especially rooms with high ceilings or where no remodel is planned.
If using accent lighting on a plant, sculpture, or several other 3-D focal piece, consider spotlights. Use picture lights to showcase a powerful collection of art, family photos, or a particularly impressive book collection?
3. Ambient Lighting
Once you've found out your task and accent lighting, the last step is to feature some general ambient lighting to fill in the gaps and set the mood. This can be done in a range of various ways.
4.  Add A Centerpiece
Whether you opt for a romantic chandelier or a modern pendant, a striking light fixture can complete a living room. The aptly named Ballroom Chandelier, the thoroughly contemporary Dancing spheroids, the show stopping Mesh, or the mid-century modern Satellite are just a couple of top selling chandeliers with personality. Remember that a chandelier's primary function is to supply style and ambience, and they're not always an effective lighting alternative to recessed ceiling lighting, track lighting, and monorail lighting. These lighting fixtures are often attached to a dimmer switch to make them dimmable and set the mood.
5. Ambient Table & Floor Lamps For Complete Illumination
Moreover, lamps that are portable offer localized pools of light at eye level that flatter faces, creating an intimate yet quite relaxed social atmosphere.
6. Decorative Wall Sconce
A wall sconce will provide additional ambient light which is fairly confined to the world near the wall, as well as lighting the wall itself in a decorative way, reflecting diffused light off the wall.
7. Easy Upgrades that Are Out-Of-The-Box
Dimming are often a nice, easy feature that doesn't break the bank. Nowadays, many of the fixtures are dimmable. If you want to stick along with your existing fixtures, the Caseta Plug-In Lamp Dimmer works with dimmable LED's, CFLs, incandescent and halogen bulbs, meaning you'll be able to keep your fixtures and yet also bring a small hint of high-tech into your space.
8. Advanced Smart Home Solutions
Whether you're remodelling or building from scratch, now's the time to take full control of your living room, one of your home's central hubs. Use BRBDSONS Touch Controller and watch your living room transform.
You may want to seek advice from our lighting expert who will have an enormous knowledge of the various sources of light, the numerous fixtures and fittings on offer, as well as today's hi-tech control systems. You should always employ an authorised and qualified electrician like BRBDSONS to ensure a safe and well-fitted installation.