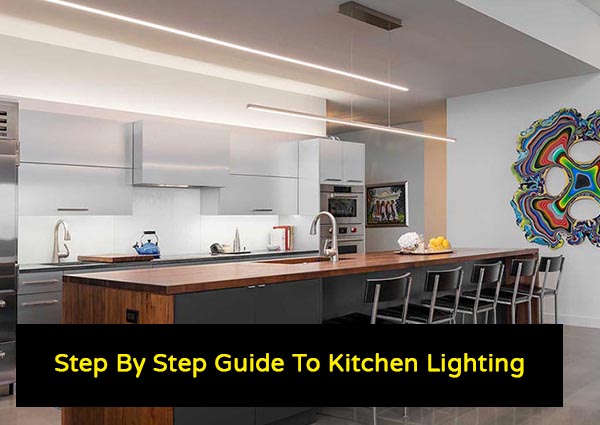 Step By Step Guide To Kitchen Lighting
From meal prepping to cozy brunches, kitchen lighting actually deserves really careful consideration.
Kitchen lights should be bright because you're working with knives and other cooking materials, but can even create an attractive environment for engaging guests. This further means, the kitchen lighting actually needs to be as flexible as the room itself.
Kitchen: 3,000 to 4,000 lumens.
Firstly, check out the dimensions of the kitchen and also the amount of natural light it gets. Secondly, consider the activities which will occur in each space. Such as the space above the hob as well as sink requires task lighting, for cooking and also for cleaning. Whereas, the dining area needs mood lights, as that is where you will be entertaining your guests.
A good kitchen lighting system requires at least 2 elements:
Task light that are bright and shadow-free for safe cooking and preparation and,
Atmospheric illumination in order to create mood, highlight architectural features and make the room feel less functional
With all these various light sources at your disposal and with many different functions to cater for, it is quite wise to consider a flexible control system rather than a simple on/off switch. If it is possible, you need to ensure that your lights are controlled separately so you'll be able to create different types of moods at the flick of a switch. Moreover, LED recessed lights with dimmable control, can further adjust the brightness and color of the light.
Recommend Wide Chandelier Or Multiple Pendants.
To illuminate an island or dining table, BRBDSONS Recommend wide chandelier or multiple pendants.
Furthermore, Hanging a series of pendant lights or an amazing single statement piece over the dining table will assist separate the eating space from the kitchen's work zone.
Hang pendants low over the table so as to create a warm and comfy environment and to create lots of functional light, but high enough so that you do not bump your head. Depending on the scale of your island and your style, choose single or multiple. Single pendants make a really good statement over a smaller island, while multiple balance out a longer piece.
If you are working with a single fixture, it should be able to cover about 2/3rd of the island/ or dining length. In addition, if you wish to hang multiple pendants the distance between the island and also the pendant should be approximately about 30-36″ while the distance between the pendants should be about 30-32″.
You may want to seek advice from a BRBDSONS lighting expert who will have a vast knowledge of the different sources of light, the many fixtures and fittings on offer, and also hi-tech control systems nowadays. You should always employ an authorized and qualified electrician like BRBDSONS in order to make sure a safe and well-fitted installation.