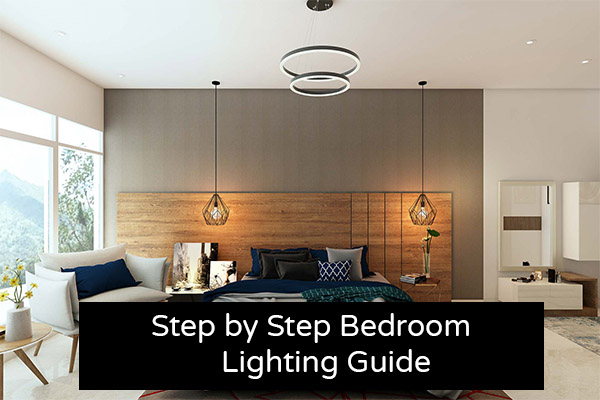 Step by Step Bedroom Lighting Guide
Bedrooms are much more than a place to simply sleep in nowadays. They have also become places to work, read, as well as spend family time. Aside from the above mentioned it will always be a place you can look forward to returning to each and every night and a haven of relaxation, recharging as well as reorientation Lighting is actually one of the most essential ingredient in order to achieve these multiple jobs.
Lumens required in Bedrooms: 1,000 to 2,000 lumens.
Type of lighting required: Soft white/warm white (2700 Kelvin): Best for bedrooms and living rooms; providing a standard warm, cozy feel to them.
Choose from:
PENDANTS
Dropping down pendants on either side of the bed is an ideal and perfect way to spruce up your bedside and make it glow warmer by saving space. However the pendant lighting is especially the best with high bedroom ceilings about 10 feet or more in order to achieve mood and ambience.
Drop them over a console or nightstand. You need to ensure that the distance between the pendant and nightstand is actually about 12-22". In addition, also ensure pendants are hung above the eye level.
TABLE LAMPS
Placing table lamps on either side of the bed is the most common bedside lighting which do not require much electrical work as in case of hanging pendants or wall lights. When you are laying in bed at nighttime, think about how you want to feel in your space. If the console is really low try a little longer table lamp, and if the console is really long try a table lamp which is shorter than it.
Try linen shade for a gorgeous wash of light all around. If you're an avid reader choose lamp with a directional beam so you'll be able to enjoy reading at night without disturbing your partner.
WALL SCONCES
From sleek contemporary to rustic country, there's a style of wall sconce for all sorts of decorating theme. Furthermore, they are actually a great choice for the bedroom and are generally installed on all sides of the bed.
Sconces with adjustable swing arms make it a breeze to position the light right where you really need it for reading in bed. The use of wall sconces on either side of the bed further provide a perfect reading light and they even free up a lot of surface space.
They should be approximately 2ft above the mattress and also about 4′ to 6′ out to the side of the headboard. The rule of thumb is for sconces to be between 5-6 feet from the ground. Moreover, the sconces that have very small shades or covers protect your eyes from glare and are thus best when used next to the bed.
SMALL CHANDELIER
If we talk about the bedroom, it is all about creating an amazing retreat with layers of relaxing light. To add an undeniable glamour, drama, and elegance to your bedroom, one of the most formal style is an overhead ceiling fixture which also saves space. You need to look for fixtures that actually complement you're bedroom's decorating style.
To prevent unpleasant glare while lying in bed, choose a fixture that actually has a covered bottom. Otherwise, you'll simply be looking up at nothing but a bright bulb. Don't hang a chandelier directly over the top of your bed—keep it towards the centre of the room and also the lower third of your bed.
Hanging a chandelier within the bedroom is a balancing act. For a small size bedroom, keep the chandelier to no over 20 inches in diameter, in a larger size bedroom, limit the chandelier to no over 30 inches across. Hanging it even a little bit lower will create a more intimate, cozy feel.
FLOOR LAMP
If you are looking for some attractive visual embellishments to your master bedroom. Then you can use a floor lamp to illuminate your reading nook or bedroom seating. Floor lamps with adjustable heads make it much more easy to direct light where you really want it. Therefore, adding a floor lamp will give subtle illumination as well as fill an empty corner. We probably want to hang the fitting with baseline approximately about say 50" from ground level.
For more information about the same visit BRBDSONS Website, and contact us now.